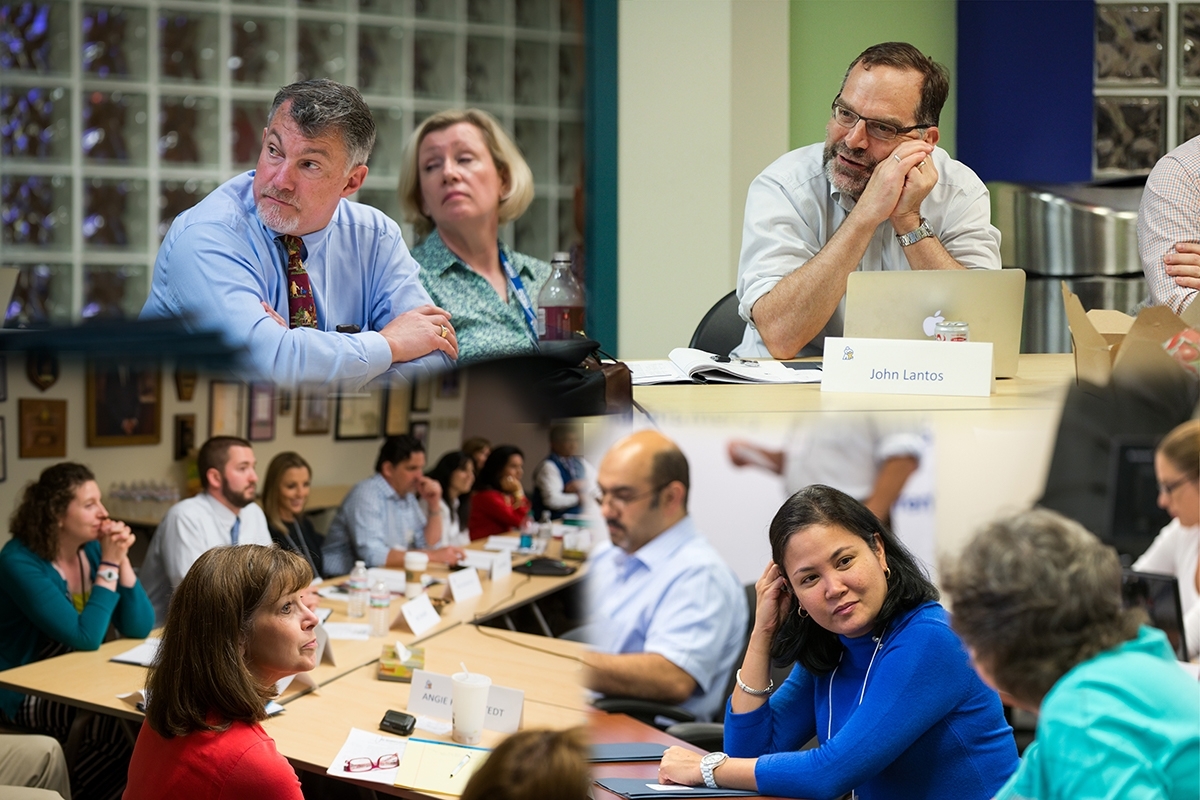 Vanessa S Watkins, John Lantos, Ethicscope Editorial Group
The Children's Mercy Bioethics Center (CMBC) Certificate Program in Pediatric Bioethics is a nine-month blended learning program that combines in-person intensive education with on-line distance-learning. The program begins with a three-day, in-person session in Kansas City, progresses to on-line discussions, written assignments, and a series of interactive webinars. Students then return to Kansas City to present their capstone projects. It is currently the only certificate program in pediatric ethics, and draws students worldwide.
The ethical issues in pediatrics can vary considerably from those in adult medicine. Thus, ethics education generalized for adult care is not necessarily relevant to the specific issues that arise in pediatric settings. The Children's Mercy Bioethics Center's Certificate Program in Pediatric Bioethics is the only program in the world that focuses exclusively on pediatrics.
The Children's Mercy Bioethics Center (CMBC) Certificate Program in Pediatric Bioethics is a unique nine-month intensive program. It is designed to enable students to participate almost entirely on-line. Students need only be onsite at Children's Mercy Kansas City twice; first, at the beginning of the program for the introductory three-day session, and then at the end of the program for the closing three-day session and presentation of their Capstone projects.
The program enables busy health professionals to participate from home where they can continue to meet their ongoing professional and other obligations. As a result, the program draws students from around the world. Most of the on-line components are asynchronous; students needn't log on at the same time as others. Instead, they decide, based on their own schedules, when to do readings and to join on-line discussions. Self-direction is crucial.
The opening session is designed to introduce students to ethical issues in clinical ethics, research ethics, and health policy ethics. For each of those categories, an archetypal case is presented, including the historical context from which it arose, competing views of how the issue should be resolved, and analysis of how the case has affected current issues. Reading assignments are multidisciplinary, drawing on the legal, ethical, and policy literature. The capstone project allows each student to dive deeply into a particular topic. During the closing session, each student presents their capstone project to the class, furthering the cross-pollination of ideas and opportunities for collaboration and networking.
Between the opening and closing sessions, the coursework includes both required and suggested readings. The readings are generally limited to approximately thirty pages. The suggested readings are designed so that students can begin amassing pediatric bioethics libraries of their own for course reference and later use. Students also read two or three books each year.
The program draws faculty from throughout the larger Children's Mercy/ University of Missouri-Kansas City School of Medicine community and program alumni from across the globe, but the core faculty members are:
John D. Lantos MD, Director of Pediatric Bioethics and Professor of Pediatrics at the University of Missouri-Kansas City School of Medicine.
Brian S. Carter MD, Neonatologist, Pediatric Bioethicist, and Professor of Pediatrics at University of Missouri-Kansas City School of Medicine (Program Faculty Co-Director)
Jeremy Garrett PhD, Associate Professor of Pediatrics and Adjunct Associate Professor of Philosophy at the University of Missouri-Kansas City School of Medicine (Program Director, Student Research)
Angie Knackstedt, RN-BC, BSN, Health Literacy and Bioethics Clinical Coordinator (Program Faculty Co-Director)
The administrative Director is Vanessa S. Watkins, MPH, FACHE, CHES. Jennifer Pearl is the Bioethics Program Office Manager. Core Faculty moderate weekly activities and affiliated faculty with clinical expertise in each week's topic also join the discussions. Students are required to post at least two well-thought responses each week.
Each class includes students of different professional disciplines and from many cultures. The CMBC offers scholarships for students from low and middle-income countries. The CMBC also offers a scholarship program for nurse leaders who are nominated by their Chief Nursing Officer or Deans. Students and faculty alike are thus able to, learn from and challenge others with divergent backgrounds, experiences, and professions.
The faculty introduces the capstone project up early in the program. Students have project mentors, who supply deadlines for the different stages of project – one each for preliminary ideas, outlines, abstracts, and rough drafts. Projects can be any of the following:
A narrative piece with a pediatric focus
A case analysis that would be suitable for an ethics consultation in a children's hospital
A research project with a focus on an pediatric ethical issue
A paper about a specific pediatric bioethics topic
A clinical application in response to an ethical issue.
The CMBC hosts approximately ten webinars and three or more program-specific mid-year webinars. Students attend (or watch the recording of) webinars. Past years' webinars are archived on our website. Webinars feature speakers drawn nationally and internationally, speaking on topics such as: "Transgender children and the right to transition" (Maura Priest PhD, 2017-18), "What would you do if this were your child, Doc?" (Larry Churchill PhD, 2016-17), "Tracheostomies in children with profound disabilities—Navigating family and professional values" (Benjamin Wilfond MD, 2015-16), and "Changes in care for dying children: Where have we been? Where are we going?" (Myra Bluebond-Langer PhD, 2013-14).
Upon completion, students receive a certificate of completion and continued access to webinars, readings, and on-line discussions. On-line learning environments are best when they support exploratory and dialogical learning that engages learners in activities that require collaboration, communication, social interaction, reflection, evaluation, and self-directed learning. The program has grown steadily since its inception in 2011-12. The program now caps enrollment at 35 and has a waiting list each year.
For more information, visit: https://www.childrensmercy.org/bioethics/certificate-program/
Disclosure: One of the authors of this report is a member of the Pediatric Ethicscope editorial board. The Pediatric Ethicscope editorial office, and not the editorial board,  is solely responsible for selection of the  educational programs reported in the journal.
(489 reads, 1 reads today)